Kansas Basketball
Only basketball season fills the void of otherwise soul-crushing defeats week-after-week in most sports for Kansas fans and alums. The Jayhawks have played basketball since the 1890s, when the game's inventor became the school's first coach. The Jayhawks are the second-winningest program behind Kentucky, with more than two-thousand wins.
There is something almost spiritual about a Kansas basketball game. The Jayhawks have played in the same building since 1955. Pregame is choreographed carefully, from the alma mater to the Rock Chalk chant to the end of the fight song just as the pregame countdown clock hits zero. Allen Field House is a pilgrimage for fans of college basketball, even on a random Tuesday night non-conference game.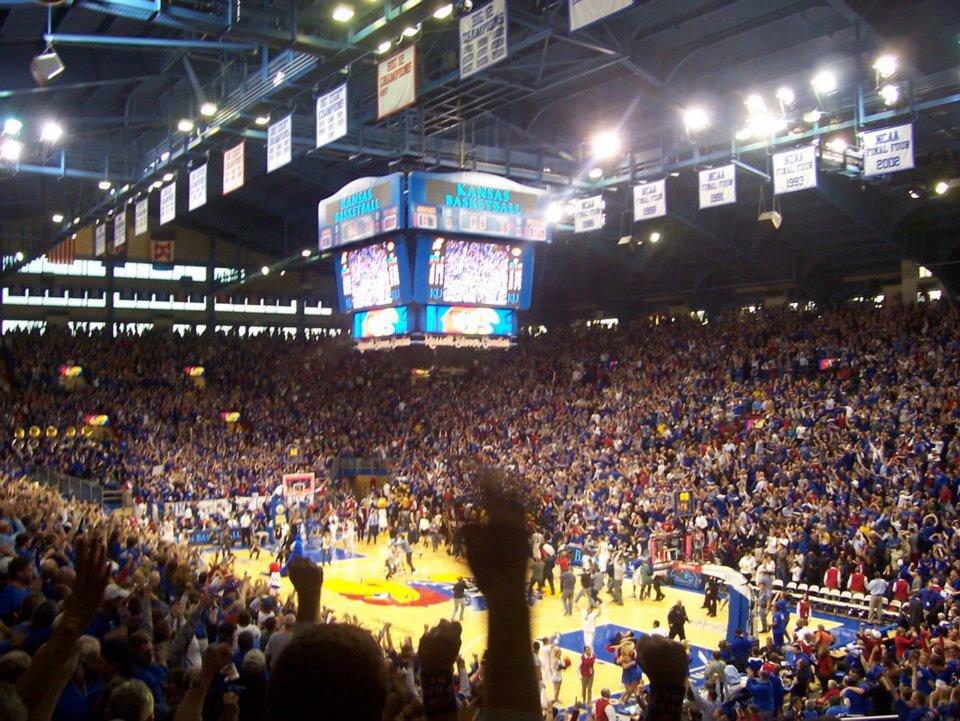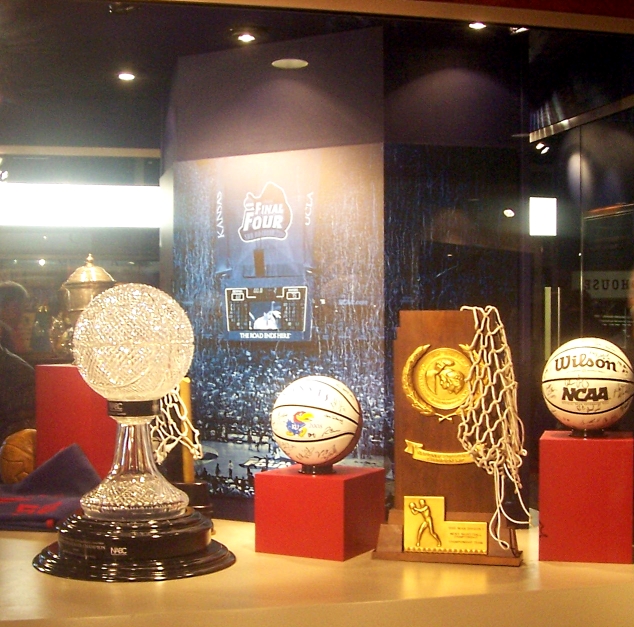 The wins
As mentioned, KU has won more than two-thousand games. KU has three NCAA tournament titles (1952, 1988, 2008) and two of those championships awarded by sports writers prior to the existence of the NCAA tournament.
Personally, I have only seen KU lose once in person, and that was a game against Davidson at Sprint Center in Kansas City. I saw my first game before the three-point line became a part of college basketball. Imagine my confusion, as a young kid usually slow on discovery, when shots suddenly began counting for three points. KU didn't lose at home at all during my college years. In recent years I've seen some of the most exciting games ever, such as the last appearance by Missouri at Allen Field House, in which KU erased a significant deficit to force overtime and win.
Other than staying up late, I don't have much memory of my reaction to KU's 1988 NCAA championship victory. In 2008, I watched the game alone, thought we were sunk, only to see an improbable comeback to tie and win in overtime. I hopped in my car, drove the 40 miles to Lawrence to celebrate, parked, and realized I locked my keys in my car. That's typical for me, though, anytime I think I'm going to have fun, life slaps me with fury, reminding me I cannot. National journalists like to compare KU to the Atlanta Braves, and it's sadly appropriate. KU is currently on a ten-year conference title streak. KU has the longest active NCAA tournament appearance streak. Yet they have just 14 Final Fours and three titles in 75 years of the tournament. I would trade those conference titles for the NCAA titles of Duke, North Carolina, or even Connecticut and Florida.

The list

The list is actually two lists. The first is a list of inexplicable losses and NCAA tournament heartbreak. The other is the players usually responsible for lifting their teams to those improbable victories. I can, much more easily, name the teams that knocked KU out of the tournament than the teams we beat. The list often puts KU into the "choker" category, and some years, that's deserved.
In terms of the worst tournament losses in my lifetime, I rank them as such:
1. Northern Iowa: KU, a #1 seed, allowed UNI to dictate the tempo, shot poorly from three, allowed an obese 6'11" guy to make an uncontested three to start the game, and fell in a terrible display of basketball. Considering KU's talent and UNI's talent, this stands as the worst tournament loss in my lifetime.
2. Arizona: KU probably had the best talent, top to bottom, in college basketball in 1996-97. A #1 seed, they stumbled in the sweet sixteen against #4 seed Arizona, a team that would win the title that year. This KU team, #1 for much of the season, represented Roy Williams' best chance at a title.
3. Virginia Commonwealth: KU, again a #1 seed, only needed to beat #11 VCU for a trip to the Final Four. VCU had emerged from one of those play-in games. KU did not take them seriously, turned it over repeatedly, allowed VCU to rain three after three, and lost in staggering fashion. KU essentially made VCU coach Shaka Smart a star.
4. Syracuse: KU met Syracuse in the 2003 NCAA championship. KU shot free throws poorly and allowed Gerry McNamara to rain six three-point baskets in the first half. At the end, Hakim Warrick came out of nowhere to block the game-tying three-point shot from Michael Lee. I'm still certain Lee's shot would have gone in.
5. Texas-El Paso: Stop if me you heard this one before. KU, a #1 seed, played down to its competition, let UTEP dictate a slow tempo, and lost in the second round.
6. Bucknell: The Bucknell loss in the first round (3 vs. 14) started the string of "killer B" losses the media loved so much. Truthfully, KU didn't have a capable team that year, and feasted on a weak Big 12. Bucknell exposed them with fundamentally sound basketball.
7. Rhode Island: Ahem. A #1 seeded KU team lost in the second round to Rhode Island in 1998. In a familiar script, KU shot too many three pointers, made just a few, and let the other team control the game. KU's slower guards couldn't keep up with Tyson Wheeler and Cuttino Mobley.
8. Syracuse: In 1996, KU reached the round of eight, needing only to beat Syracuse for a trip to the Final Four. Again, KU shot too many three-pointers, and Billy Thomas stepped out of bounds late to seal another bad KU loss.
9. Bradley: The Braves were the second of the killer B losses. In a first-round 4 vs. 13 match, Bradley smacked an inexperienced KU team hard, even making a half-court shot en route to victory.
10. Maryland: KU jumped out 11-0 on the Terrapins in the 2002 Final Four, then promptly took the rest of the game off and lost.

When it comes to players defeating KU, one name stands alone: Marchello Vealy. In one of those weird losses at home, Oral Roberts defeated #3 KU by seven points. A little-known player named Marchello Vealy made all the difference, connecting on his first seven three-point shots. He never played that well again. Vealy is now the standard by which all unrealistic performances against KU are measured.

Current era


After Roy Williams left in 2003, KU hired the man most fans wanted for the job, Illinois head coach Bill Self. Despite some of the bad tournament losses, Self has been nothing short of magnificent. Self has more Big 12 conference titles than home losses. KU has been head-and-shoulders above most teams each year. KU is putting more players in the NBA. The league is never far for Self. Perhaps someday he'll get tired of the drama of NCAA basketball and take his one shot at the NBA. It will be fascinating to see who KU hires when Self leaves.