The final handbell choir tour for Jed and me was the big one. We never thought we'd get to Hawaii. But we did for somewhere around ten days. Of course, we weren't there as normal tourists. This turned out to be a grueling tour-- something like twelve shows in ten days. We played three shows in one day. Getting there is not half the fun either, because it involves ten hours in an airplane. Somehow, it was cheaper to fly from Kansas City to Chicago, then to Honolulu. Walking out of an air-conditioned airport into Honolulu is like stepping into the oven. It's warm, all year long, at the low elevations. Also, each island has a rainy side and a dry side. Honolulu experiences both, apparently. The sun is much more intense as well. I sunburned a few days after arriving.
Jed, Bryan and I were joined by more of a male presence on this trip. Mike Johnson, Chris Parks and Nathan Kettle joined us. There were 22 ringers and six adults; it made for quite a few conflicts. Mike and Chris were not very serious. This trip would be the ultimate test of my patience and tolerance. The first night, Nate, Mike, Chris and I stayed in a hotel, while Jed and Bryan stayed in a sponsor's apartment (we then switched the next night). I'll never forget the hotel wake-up call. We called the front desk and requested one for 5:30 a.m. At 5:30 we hear a knock at the door. I answer it. The short, tubby Polynesian man at the door told me to wake up and walked away. I wanted to say thanks, I really did.
Our first concert took place at a church where we shared the bill with an all-female chorale from Phoenix. Little did I know only ordained ministers could step on the altar in a Hawaiian church. I stepped in the sacred area while setting up (it was impossible not to), so I shall burn in hell, or such was the message from the person who yelled at me.
Our first beach experience was somewhat of a disappointment. We drove to a calm section of water, probably a lagoon. It was definitely warm, though. The cracked shells in the sand made it painful to walk upon without shoes. A proud moment for me was when I dunked Melissa underwater. She didn't appreciate the humor in it, and informed me I was a "dead man." We had a much more exciting beach experience the next time around. There were waves. Powerful waves. The kind that make you eat sand, even close to shore. Poor Sarah Buxton lost the top to her swimsuit, and lied flat on the ground until someone could find it. Indeed it was recovered.
After the first couple days on Oahu, we flew to the big island of Hawaii for the second segment of the tour. An open-air airport next to dried lava flow near Kailua-Kona greeted us. The sponsors put us up in a nice resort-hotel, in which all the male ringers shared a condo. Kailua is very much a resort area with many merchants and several familiar chain restaurants. I was also privy to a bit of crime. Two of our female participants, my age even, decided not to pay for some jewelry at this open-air shop. But they needed me to distract the female clerk. As far as I know, they were able to wear the jewelry out of the store and it was a success.
The first concert on this leg was in church, in which they listed our church name as the name of the town. Soon afterward, I started to become sick (probably related to the shellfish the church served). So of course while I was throwing up in the bathroom, everyone else was swimming. They mistook it for shunning.
The big event involved a hike across a volcano crater in the Volcanoes National Park. No problem, right? We hiked down a steep cliff... then we hiked across the crater, probably close to two miles. The crater contained a lot of hot vents, so it was not a good idea to stick one's hand into any hole in the ground. The crater had an eerie feeling to it, much like being on another planet. And like other planets, the trails are poorly marked. Returning up the cliff, on the other side, presented a challenge because the trail split, not marked. Unknown to us, the correct path actually took hikers on part of a two-lane highway. This caused great dissention in the group, and consequently, we were late in our return.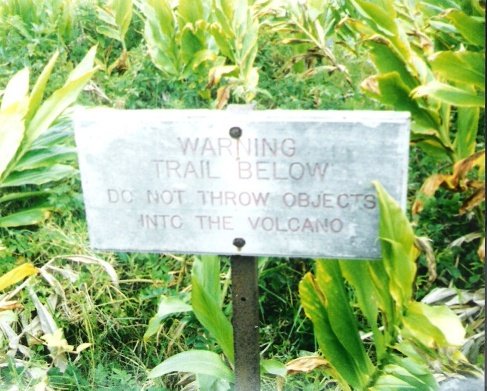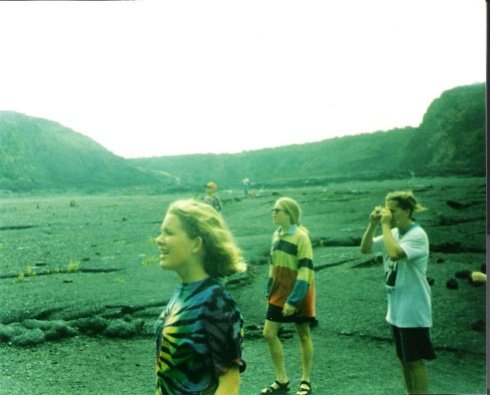 Another major event for most of us was the boarding of a battleship, namely the U.S.S. Erie. It took great dexterity to board the vessel because we needed to jump from the boat we took out there, onto the deck of the ship. If one mistimed their jump in the somewhat choppy sea, that person would fall far, far down into the water between two large ships. The captain was not on deck. In fact we learned he stayed in a hotel most of the time. Peacetime rules.
The next concert I remember took place in a church, deep in the jungle. It was a very small and muggy church at that. No amount of deodorant could keep me from sweating in this hothouse. But we had our best performance here. Since the church was small, it hindered the playing of "Pasacaglia," which involved Jed and I to scurry around with Olympic-caliber moves. Not a problem though, no sacred altar, candle or flower arrangement could stop us. The audience was very appreciative, asking for all the encores before going into the question and answer session. This was a new feature, and I learned something new as well. My largest bell weighs eight-and-a-half pounds. Luckily, Barbara Kelly had that answer. People always asked how I could ring the way I do, but never any weights and measures. Mingling with the audience is one of those rare times when I felt special, or at least a little different. People always expressed how touched they were by the music, especially if they heard some familiar songs. We also got to stay in the house of this small town's mayor, and it could easily accommodate a lot of us.
We spent the next two days in Hilo, on the other side (the rainy side) of the island of Hawaii. Once again, us guys stayed together, and we stayed at a household that included four children. Concerts included a retirement home and a local church. We also witnessed and smelled the sights of a fish auction and a flea market. I bought a cool-looking black t-shirt, marking one of my four physical souvenirs beyond the photographs. The others were macadamia nuts, guava nectar (I took an empty can home; I could drink that stuff more easily than water), and a shark-shaped key chain/bottle opener that I continue to use today. Hilo does have black-sand beaches, from the volcanic rock, which was quite a novelty to us.
The third leg of the trip took us back to Oahu. One of the biggest scams in tourism has to be the Polynesian Cultural Center on Oahu. We performed there, so I imagine we received a discount. But there was nothing to do, and the insanely high refreshment prices kept many of us hungry. We took more interest in the waterfalls in this national park we visited. They made for great pictures.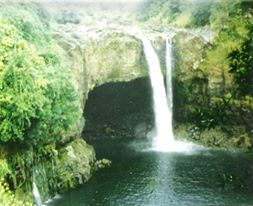 One thing I noticed when it rains in the mountains of Oahu-- natural waterfalls develop, and you can see them from quite a ways away. It's curious when Honolulu is dry and the mountains receive enough rain to create a plethora of skinny waterfalls.
The concerts took place in some unusual settings, like the mental institution. Yep, we played to a audience of mentally disturbed people. One of those patients in the audience took a real liking to Melissa, and gave her a kiss after the show. She cringed and chose to back away... far away. I smiled, delighted in the fact that she could always attract the crazy people. We played in some more churches. We also played for the students of the private King Kamehameha School (this guy's name was everywhere), which I later saw on television as the subject of a grand embezzlement scheme. The kids did not look terribly interested. We stayed in some empty dorms on the school's campus. The dorms afforded us a much-needed laundry room and bench weights. The girls walked in on me while I bench pressed a meager amount, and did it without a shirt.
One thing I found fascinating about Hawaii was the free reign of the gecko. The gecko gained free will due to the abundance of open-air buildings in the state. At one point, a gecko crawled down the back of one of my counterparts. The shock is astounding. The cockroaches also had a run of the place, and they grew to huge proportions.
The trip home was uneventful, including the spam and salsa served on the plane That was my last tour, as I went into "bell choir retirement."