Thursday: Kansas City to Charlotte to Fort Lauderdale to Miami
2007 yielded a most magical opportunity for the University of Kansas. As a native of Lawrence, Kansas, I know bad football when I see it. In my lifetime, Iíve seen some of the worst college football in history. KU improved steadily, starting in 2003, returning to a bowl game for the first time in eight years. KU repeated the trick in 2005. In 2007, the team had the promise of going back to a bowl, maybe even a higher bowl. But the Orange Bowl? Yes, the BCS rewarded KU for its astounding 11-1 season with an Orange Bowl berth against top-ten-ranked Virginia Tech. I couldnít miss that. No way. For a KU football fan, thatís a once-in-a-lifetime opportunity.
I left Kansas City on the day of the game itself, with an air temperature of about 12 degrees. After a stop in Charlotte, I arrived in south Florida during one of its strongest cold snaps in years. The temperature was in the 50s. Iguanas fell dead from the trees. I still needed long sleeves. Because the flight landed 30 minutes late, I decided to skip hostel check-in in Fort Lauderdale and drive straight to the stadium, in the suburb of Miami Gardens. I parked for $20. I walked among Virginia Tech fans, who yelled ďH-O-K-I-E-S Hokies!Ē at any given moment. My seat was in the end zone, in the upper deck, perhaps 20 rows from the top. But the sight line is still terrific. The national anthem includes an extremely low-flying fighter jet flyover. That shook the stadium like it was the end of everything. It was awesome.
The game itself progressed just as I had hoped. Kansas took the lead on an interception return for a touchdown. We led at halftime. ZZ Top performed at halftime. The crew spent 20 minutes setting up the stage, performed Sharp-Dressed man, and left. All that for one song? Virginia Tech fought back in the second half, but KU held on for the win-- the programís biggest victory. I returned to the hostel so late everything had closed. So I drove around looking for a motel. I found the Holiday Inn of Fort Lauderdale, with bars on the windows of the front desk. I got a room that smelled like smoke. But KU had won, so I didnít care at all.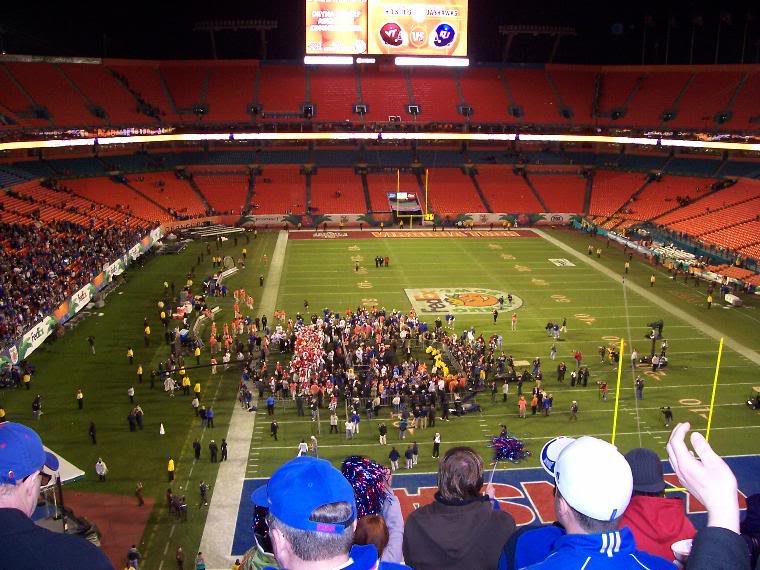 Winning!
Friday: Miami
I had budgeted for another day before returning home. Not knowing what to do, I decided to drive, and drive, and drive some more to Miami Beach. I hopped on the coastal road at Fort Lauderdale. Itís called A1A. At various points, A1A is also Ocean Boulevard, Beachfront Avenue, and Collins Avenue. Iím sure the drive would have been more pleasant if I could actually see the water. South Floridaís Atlantic coast is a solid wall of hotels and apartments.
I reached Miami Beach and parked for what I considered to be a decent rate of $2/hour, considering the location. Itís warmer, perhaps mid-60s today, but much windier. Women are walking in fur coats and boots like itís deathly cold outside. Miami Beach is a fine place. I ate at a little local sandwich hut for their French Dip sandwich, rather than one of the expensive beachside restaurants. Most of the buildings are Art Deco. Had it not been so windy, I would have enjoyed it more. I drove back across the water into Miami itself. Miami is one of those places where two blocks look pristine, and the next two look like a war zone. The peasants definitely live in the shadows of princes in Miami. I flew home early Saturday morning.