Iowa State 38, Kansas 13
If Iowa State does this to Kansas, what will Baylor, TCU and Oklahoma do?
The Kansas coaching staff reached a turning point in what was supposed to be the last game Kansas had any hope of winning. Play the young guys and hope recruits will think about all the early playing time available for such a poor team. Montell Cozart's injury meant the real debut of Ryan Willis, who played much of the fourth quarter. Clyde McCauley debuted, but not as a tackle... he lined up as a tight end because Kansas needs six offensive linemen just to have a chance. Taylor Martin and Kendall Duckworth also debuted. Almost nobody has red-shirted, which will stunt their growth. But this is also a five-year rebuild at minimum, and more like seven, so none of them will be here when Kansas is deep enough to be in bowl contention anyway.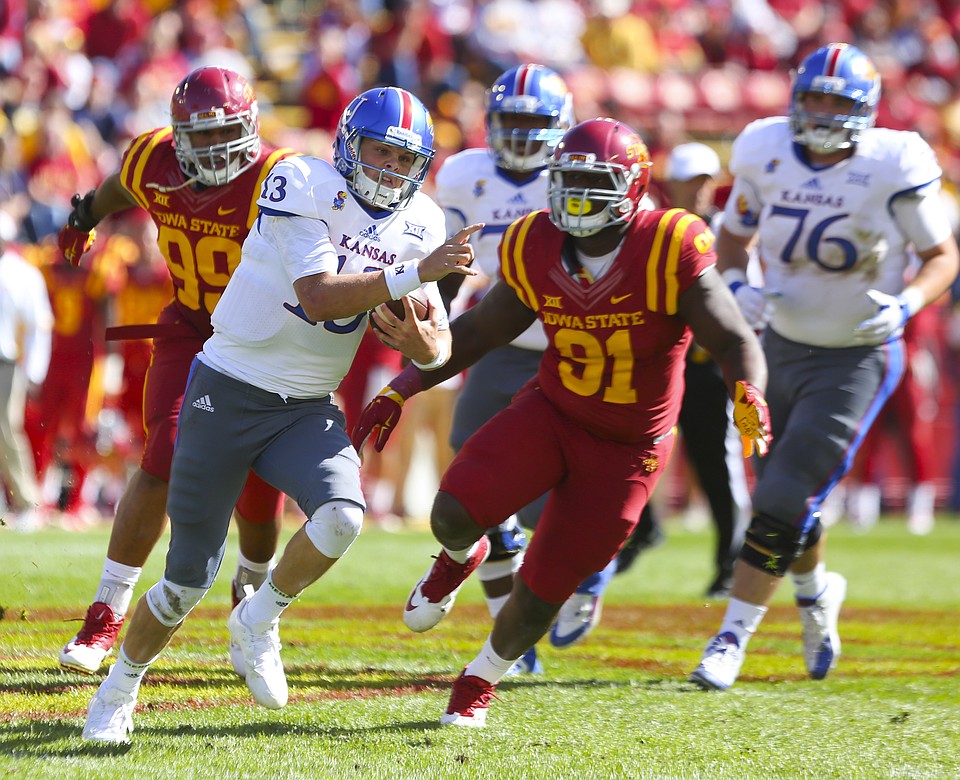 Speaking of Willis, he has a strong arm. Willis is built like a quarterback. But he's not swift on his feet. Willis won't make it to the end of the season healthy unless he learns to read the defense instantly and throw the ball as soon as possible.
There's not much to say about the game itself. The Jayhawks continued to struggle on the line of scrimmage. They looked slow and unathletic at almost every position.
Offense
Montell Cozart
Cozart suffered an injury late. He looked okay for most of the game, but missed a couple of key passes that could have helped Kansas score in the first half.
Offensive line
Iowa State rushed three most of the game and it was still too much.
Tre Parmalee
The senior continues to look like a viable target for whoever plays quarterback.
Defense
Defensive line
Linemen continue to struggle in all phases of the game.
Marcquis Roberts
Roberts returned an interception for a touchdown.