August 27: Which true freshmen will play
Ideally, a college football team is a program, a factory, playing veterans, training their replacements, and repeating the cycle. True programs are able to follow that blueprint. Kansas cannot. The Jayhawks simply don't have the stability and the numbers to stash players for the future. Every year is an all-hands-on-deck year at Kansas. With that said, let's look at the true freshmen most likely to play.
Tyrone Miller, CB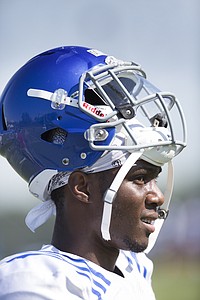 During the spring game, the Jayhawks played with three full-time cornerbacks. To say this is a position of need is an understatement, especially in the Big 12. Miller probably won't be ready, but he'll be forced into action regardless. Miller has played in the two-deep for all the August practices.

Steven Sims, WR
With Coach Beaty wanting eight wide receivers in rotation, it seemed obvious at least one, probably two true freshmen would play, especially given the lack of capable receivers already on the roster. I didn't think it would be Steven Sims. But Sims has apparently worked harder than his peers and pushed himself into a possible starting spot. Sims is small, likely a Z or Y receiver. With the installation of a new offense, it remains to be seen how Sims will get open and what happens during live action.

Taylor Martin, RB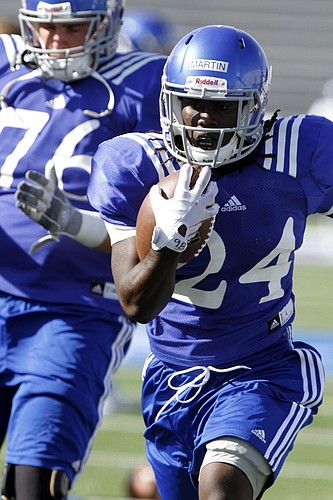 The health of the existing K.U. running backs is in doubt. Taylor Cox has been limited to drills. De'Andre Mann is recovering from injury, and hasn't fully participated either. Coach Beaty kicked Corey Avery off the team in the spring. That made Taylor Martin a likely candidate for game action. Martin will probably be the third running back behind Ke'aun Kinner and Mann, but as much as K.U. burns through running backs, Martin will probably have a couple of 20-carry games this season.

Others
Dorance Armstrong, DE: K.U. has plenty of defensive ends, but Beaty has openly talked about playing Armstrong in third-down situations.
Jace Sternberger, TE: Sternberger is K.U.'s third tight end. But the Jayhawks only have three on scholarship.
Jeremiah Booker, WR: Booker suffered a collarbone injury, but Beaty talked about him being back in late September. Beaty certainly made it sound like Booker would not red-shirt.
Ryan Willis, QB: Should Montell Cozart prove ineffective, Beaty will be under a lot of pressure to throw Willis to the wolves.
Clyde McCauley, LT: McCauley is not ready. But K.U. does not have many options at tackle, should something happen to the starters.
Likely red-shirt candidates
Carter Stanley, QB
Chase Harrell, WR
Emmanuel Moore, WR
Aaron Garza, OG
Ozase Ogbebor, LB
Shaquille Richmond, CB
Denzel Feaster, S